Schedule
Please join us
Sunday
Holy Communion
11:00 am
229 Main Street
P.O. Box 220
Dayton, Virginia 22821
(540) 879-3338
Send an e-mail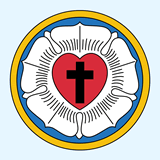 Welcome
Welcome to the web site for Shepherd of the Valley. The Lutheran Church is located on Main Street (across from the Post Office) in the charming, historic town of Dayton, Virginia, on the south edge of Harrisonburg, in the Shenandoah Valley.
We are a small, traditional Lutheran congregation with a "down home" touch where you will be sure to receive a friendly welcome. We'll have the red carpet out for you!
Please see information about the 12th annual Christmas Carol Sing on the News page
Sadly, our church is closed because of the coronavirus. We pray, dear Lord, hasten the day when we can reopen and protect everyone from the deadly pestilence. Amen.
Our Outreach is extended to the community...
Habitat for Humanity
Bridgewater Area Food Pantry
Adopt-a-Highway Program
Social Service Projects
World Hunger Appeal/Disaster Relief
Welcoming our Spanish neighbors
English as a Second Language classes (ESL)
Vacation Bible School
Weekday Religious Education
Minnick School - Harrisonburg
Music Concerts at the Church carry on the legacy of music in Dayton